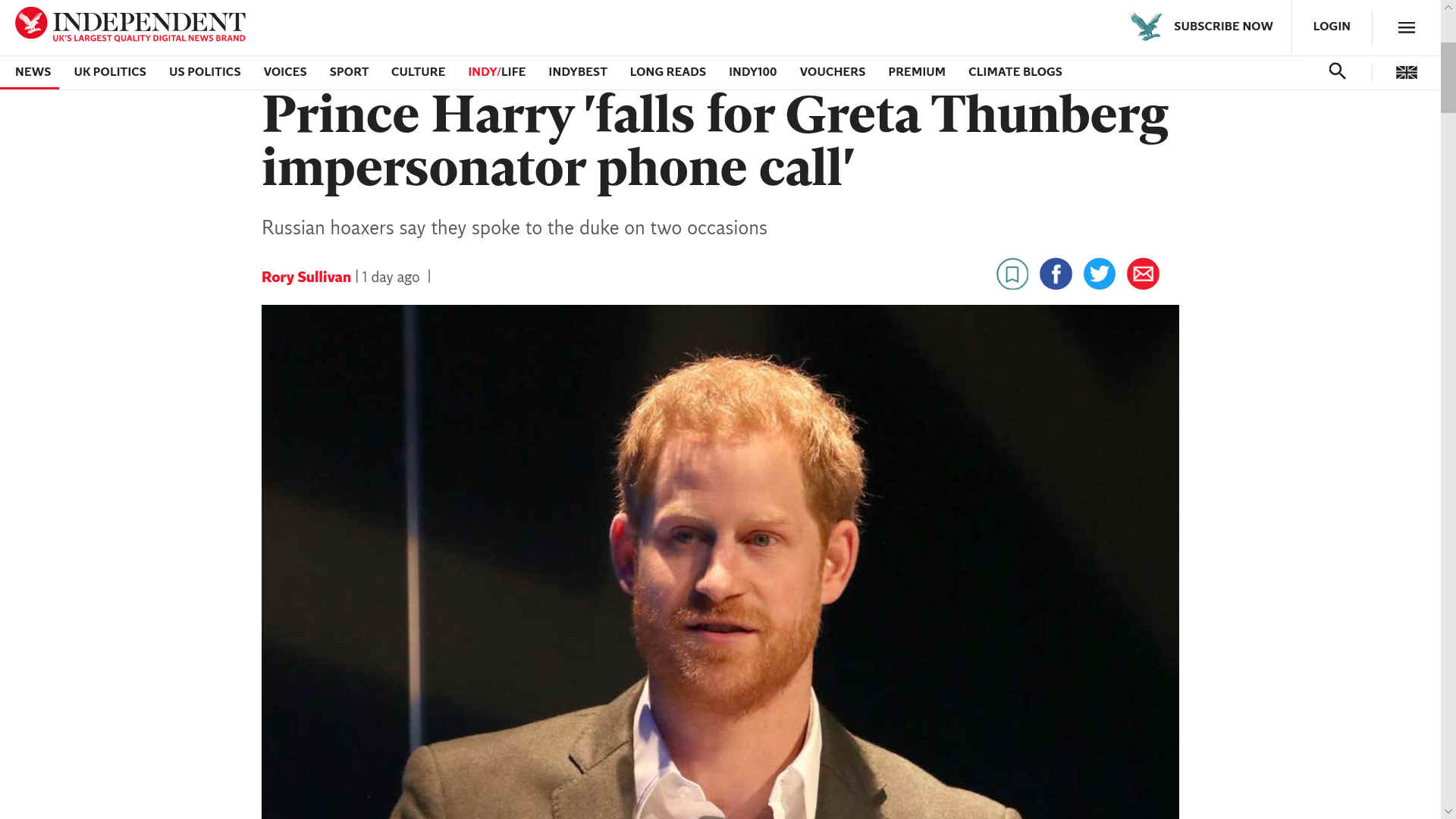 INDEPENDENT MARCH 2020 - Prince Harry 'falls for Greta Thunberg impersonator phone call'. Two Russian pranksters have claimed they tricked Prince Harry into telling them he was "completely separate" from most of the royal family. The hoaxers, Vladimir Kuznetsov and Alexei Stolyarov, say they spoke to the prince in two phone calls while impersonating climate activist Greta Thunberg and her father.
In audio clips posted on YouTube, a voice which is apparently the prince's can be heard. Buckingham Palace said it would not comment on the hoax. Likewise, a spokesman for Prince Harry declined to respond to the story. The authenticity of the phone calls has yet to be established. In the published clips, a man can be heard saying: "Unfortunately the world is being led by some very sick people.
"I don't mind saying this to you guys, I think the mere fact that Donald Trump is pushing the coal industry so big in America, he has blood on his hands."
The Duke and Duchess of Sussex carried out their last official royal duties earlier this week, after deciding to step down from their roles and to spend time living on Vancouver Island, Canada. According to The Sun, Prince Harry said their decision had not been an easy one but that they had made "the right decision" to protect their son. The paper also quoted him as saying that he was "completely separate from the majority" of his family. Dickie Arbiter, a former press secretary to the Queen, told PA news agency: "As long as Harry and Meghan are over there, they're out of the protection of the system - and for all its faults, the system does, and is there, to protect.
"If they were at Buckingham Palace, it wouldn't have happened. They wouldn't have got through the switchboard. They're pretty vigilant."
Referring to other well-known figures like Elton John who have been duped by the same tricksters, Mr Arbiter added that if the voice was Harry's then he was in "pretty good company". The conversations reportedly took place on New Year's Eve and 22 January.
ABOUT HARRY
It's bad enough that your mother died in a tragic accident amid one royal scandal, but his life was set to be a media scrum from the start as the brothers went through military training (the pleasant period), then assumed royal duties and finally met their spouses. It turns out that this was when the fun was to begin, a sort of competition that Harry could never win, if the prize was the throne of England. But is that something to be aspired to with all that starch and turmoil in terms of a shrinking former Empire. If the prize is happiness, independence and freedom, then you may take the view that Harry wins hands down. Except that the decision to flee royal duties has upset his grandmother, according to the media.
The United Kingdom is going through an interesting period of potholed roads and Brexit from Europe that the Commonwealth nations could well do without. Also countenancing climate change with councils all over the land declaring emergencies but carrying on with business as usual, amid rife discrimination, despite the Universal Declaration making that illegal, in that misfeasance turns to malfeasance, as the police ramp up case crafting to massage the numbers. We'd not want the 'Sussex' title after the shooting of James Ashley by armed police in Sussex on trumped up intelligence that backfired on Chris Sherwood as he murdered the unarmed man in the early hours of the morning. Their target had no drugs or firearms at his flat in Hastings!
SOUTH CHINA MORNING POST JANUARY 2020

Britain's Prince Harry and his wife Meghan's effective resignation from front-line duties is the latest crisis to hit the royal family in the last century.
In a shock announcement, the couple said they would spend time in North America and rip up long-established relations with the press.

Media reports said the Duke and Duchess of Sussex made their bombshell statement without notifying either Harry's grandmother the monarch, or his father Prince Charles.

The surprise news follows a turbulent year for the couple, who have openly said they have struggled in the spotlight and grown apart from Harry's brother Prince William.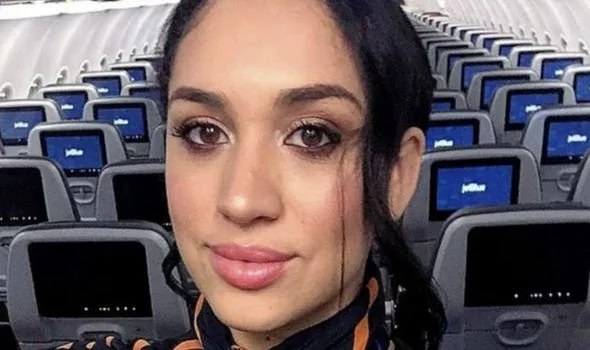 DOPPELGANGER - Amazingly, this is not the real Megan Markle. She is an airhostess who bears a striking resemblance to the former Duchess of Sussex.
Here are other royal incidents that have made headlines in the past:
LOVE OVER COUNTRY

The 1936 abdication of Edward VIII 326 days into his reign remains the biggest scandal in modern royal history and caused a worldwide sensation.
Britain's brief king provoked a constitutional crisis when he stepped down in order to marry the twice-divorced US socialite Wallis Simpson.

The union was deemed impossible while Edward was monarch and head of the Church of England, which at the time refused to remarry divorcees while their former spouse was still alive.

Edward was the first monarch in the 1,000-year history of the British Crown to give up his throne of his own free will.

His brother King George VI replaced him on the throne, and Edward – who married Simpson in 1937 – was subsequently ostracised by the rest of the Windsor family until the late 1960s. Edward died in 1972.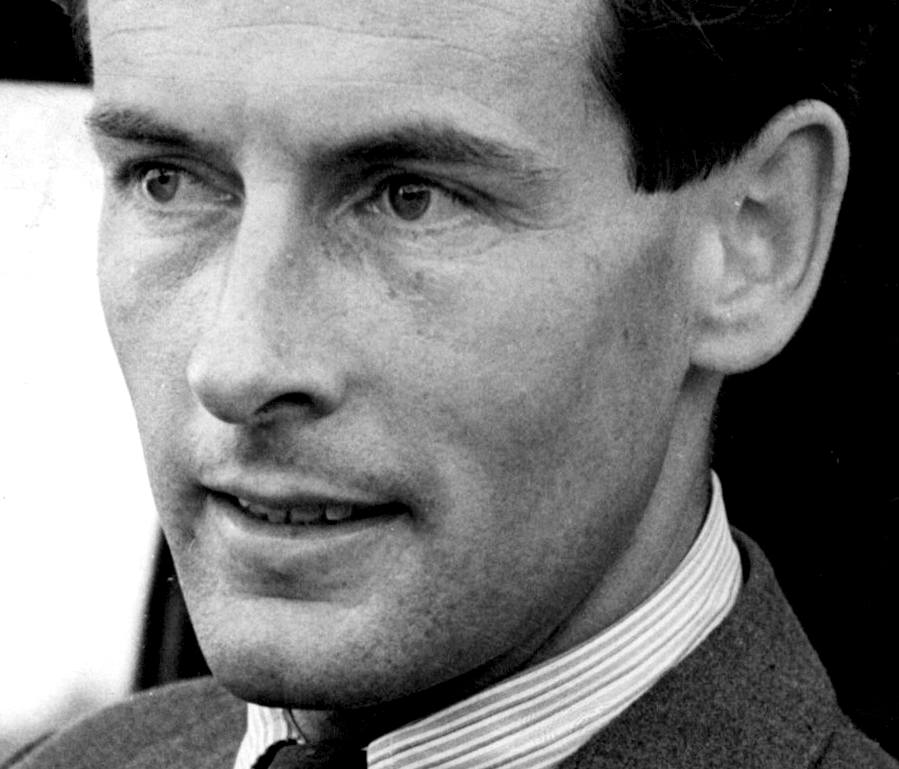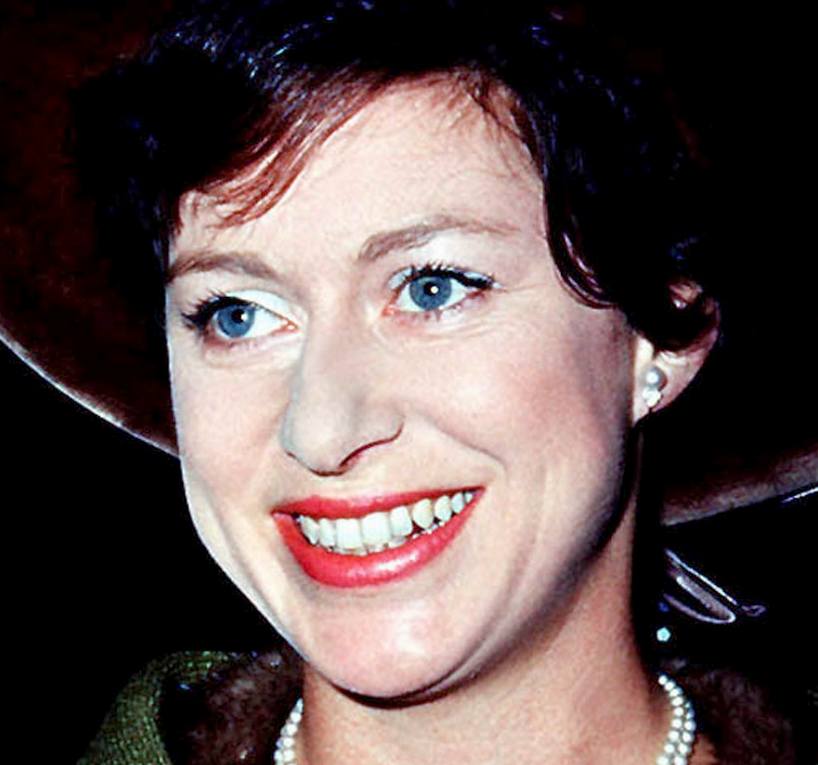 MARGARET'S HEARTBREAK

Queen Elizabeth's fun-loving younger sister, Princess Margaret, also sparked a firestorm with her choice for marriage.

In 1952, the then-22-year-old began a romance with her late father's divorced equerry, former Royal Air Force officer Peter Townsend.

The couple's wish to marry prompted a battle between the government and the public – which was seen to be sympathetic to the union – with the queen caught in the middle. Margaret was eventually persuaded to abandon the relationship, under the threat of losing her royal position, and instead married photographer Antony Armstrong-Jones in 1960. They divorced in 1978.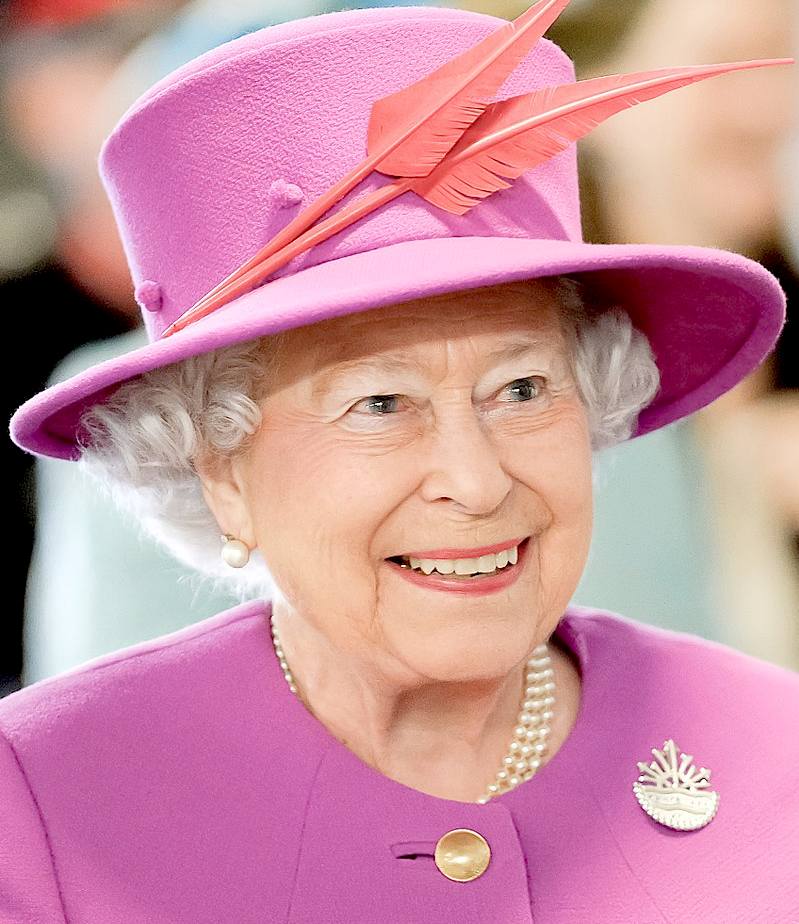 A HORRIBLE YEAR

The queen memorably described 1992 as an "annus horribilis" after three of her children's marriages crumbled.

Heir to the throne Prince Charles' split from Princess Diana after 11 years of marriage caused a media sensation.

The princess then rocked the monarchy by leaking shocking details of palace life to author Andrew Morton for his 1992 book Diana: Her True Story – In Her Own Words.

Around the same time the queen's second son Prince Andrew separated from wife Sarah Ferguson, whom he had married six years earlier.

Meanwhile Princess Anne, the reigning monarch's only daughter, finalised her divorce from first husband Mark Phillips following their separation in 1989.
DIANA'S DEATH
The popular princess died in a high-speed car crash in a Paris tunnel in August 1997. For the next week leading up to her spectacular funeral, Britain was plunged into an unprecedented outpouring of grief which shook the monarchy.

Anger had soon mounted at the silence of senior royals holed up in Balmoral, in Scotland, where the queen, Diana's ex-husband Charles, and their two children, William, 15, and Harry, 12, were holidaying over the summer.

Newspapers, furious that the Union flag was not flying at half-mast over Buckingham Palace, called on the queen to address her subjects.

Within days she had paid homage to her former daughter-in-law in a televised speech for only the second time in her reign. She also publicly bowed before Diana's coffin.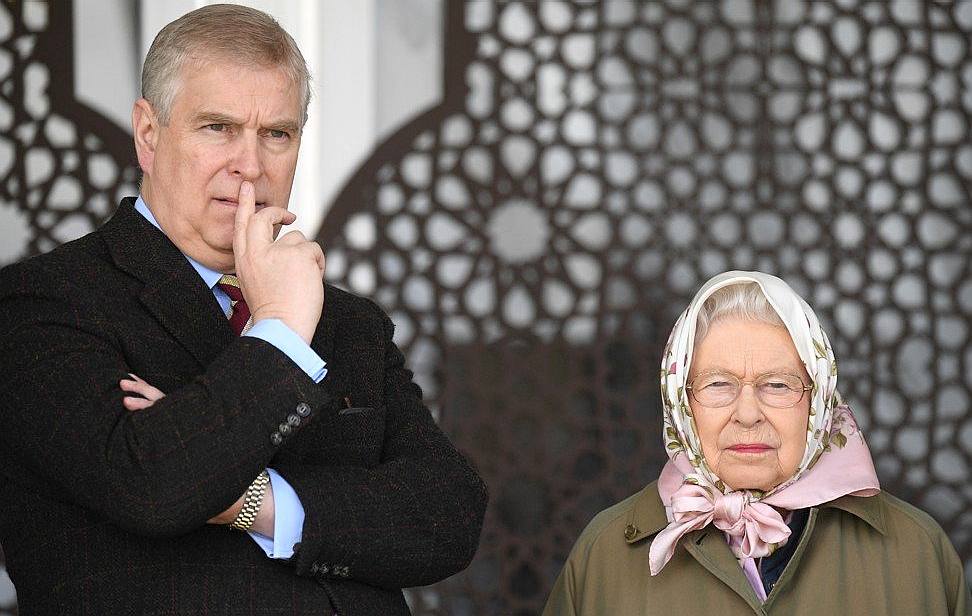 PRINCE ANDREW SCANDAL

Andrew has been dogged by allegations he had sex with one of the then-teenage victims of deceased US sex offender Jeffrey Epstein.

The prince, often referred to as the queen's "favourite son", attempted to clear his name in a BBC interview in November but it backfired spectacularly.

He looked stiff and unapologetic in a performance that one public relations consultant said was akin to "watching a man in quicksand".

The prince promptly promised to "step back from public duties" a few days later but remains under pressure to cooperate with United States authorities still investigating the Epstein case.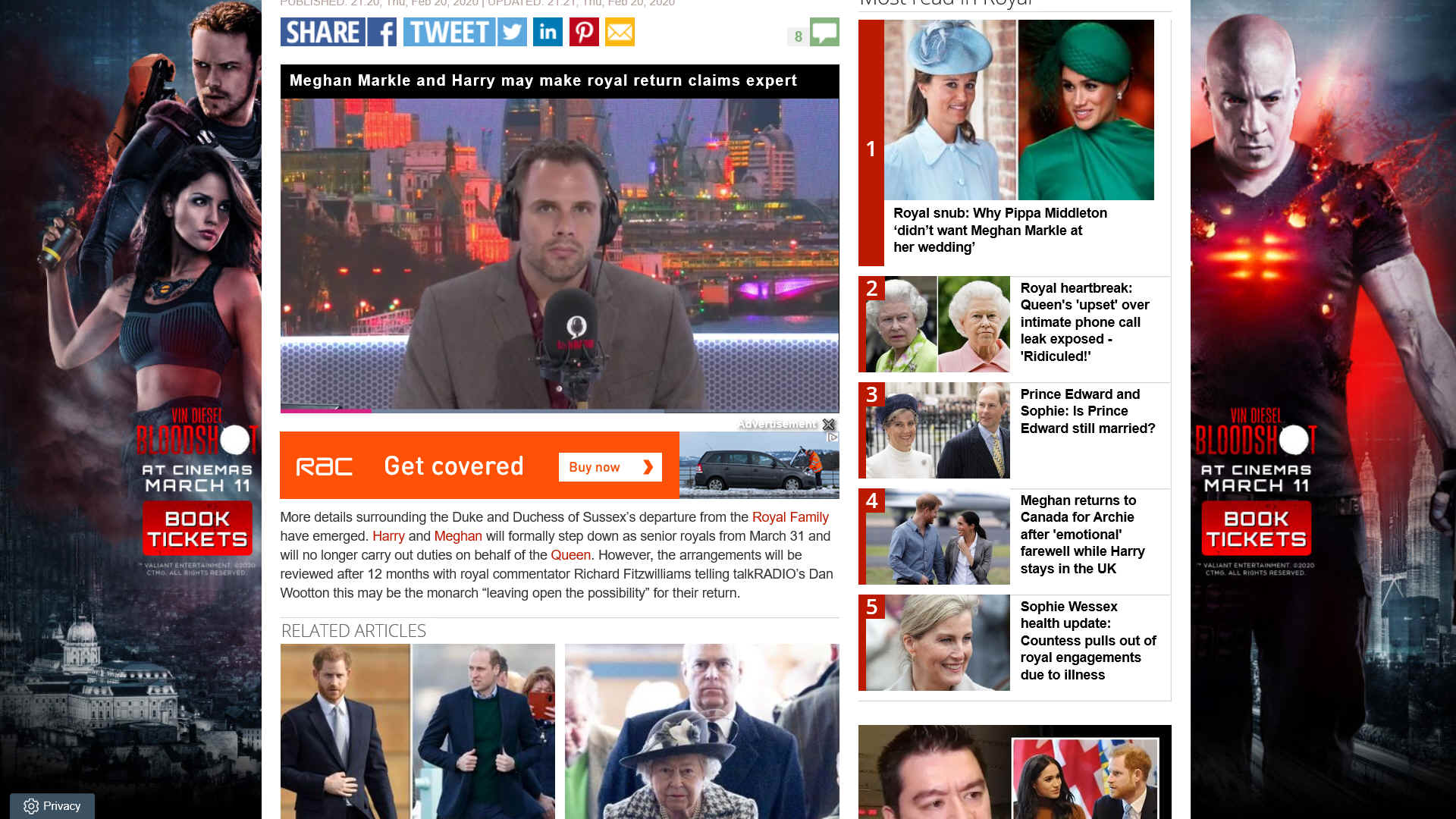 DAILY EXPRESS FEBRUARY 2020 - Megxit shock: ONE way for Meghan & Harry to return to royal life as Queen sets 'door ajar'. Meghan Markle and Prince Harry's decision to step back from the Royal Family may not be as permanent as many think as according to a royal commentator the Queen's Megxit deal has a loophole for the couple to return.

More details surrounding the Duke and Duchess of Sussex's departure from the Royal Family have emerged. Harry and Meghan will formally step down as senior royals from March 31 and will no longer carry out duties on behalf of the Queen. However, the arrangements will be reviewed after 12 months with royal commentator Richard Fitzwilliams telling talkRADIO's Dan Wootton this may be the monarch "leaving open the possibility" for their return. Mr Wootton told his listeners: "Prince Harry and Meghan will be turfed out essentially from March 31; no office at Buckingham Palace, no staff at Buckingham Palace.

"But what did interest me quite a lot about this announcement is that there is this one year Megxit transition period in which it seems like there's a little bit of hope from the Royal Family that maybe, just maybe, Prince Harry will think 'I've got it all wrong, I've made a terrible mistake, let me come back'. "I think the chances of that right now remain low."
Mr Fitzwilliams also picked up on Harry retaining his military ranks, which was another way the Queen was leaving open a chance for the Duke to return. He said: "That was the one thing that I fixed on because it had been reported, incorrectly it seems, that Princess Anne was going to become the next Captain General of the Royal Marines." "That doesn't seem to be happening, instead there's going to be a year transition.
"In that time, you might conceivably, anything can happen though I don't see it at the moment, but it does leave open the possibility for either side in this arrangement. "These military titles are being left open, particularly that of Captain General of the Royal Marines, which, of course, he inherited from Prince Philip. "So I agree that is the one thing whereby we could surmise there might be a change, however unlikely it looks at the moment."

The talkRADIO host also pointed out: "It is fascinating that the door is being left ajar. "However, he's only got 12 months, Richard. "It feels like after those 12 months, the Royal Family and Queen will put their foot down and say 'okay enough is enough, you're out'."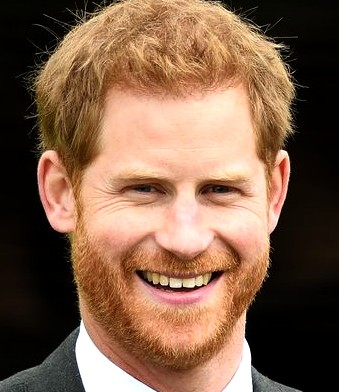 Prince Harry, Duke of Sussex, KCVO, ADC(P) (Henry Charles Albert David; born 15 September 1984) is a member of the British royal family. He is the younger son of Charles, Prince of Wales, and Diana, Princess of Wales, and is sixth in the line of succession to the British throne. He was officially styled Prince Henry of Wales from birth until his marriage, but is known as Prince Harry.

Harry was educated at schools in the United Kingdom and spent parts of his gap year in Australia and Lesotho. He then underwent officer training at the Royal Military Academy Sandhurst. He was commissioned as a cornet (i.e. second lieutenant) into the Blues and Royals, serving temporarily with his brother, Prince William, and completed his training as a troop leader. In 2007–08, he served for over ten weeks in Helmand, Afghanistan, but was pulled out after an Australian magazine revealed his presence there. He returned to Afghanistan for a 20-week deployment in 2012–13 with the Army Air Corps. He left the army in June 2015.

Harry launched the Invictus Games in 2014 and remains patron of its Foundation. He also gives patronage to several other organisations, including the HALO Trust, the London Marathon Charitable Trust, and Walking With The Wounded. On 19 May 2018, he married the American actress Meghan Markle. Hours before the wedding, his grandmother Queen Elizabeth II conferred on him the title Duke of Sussex.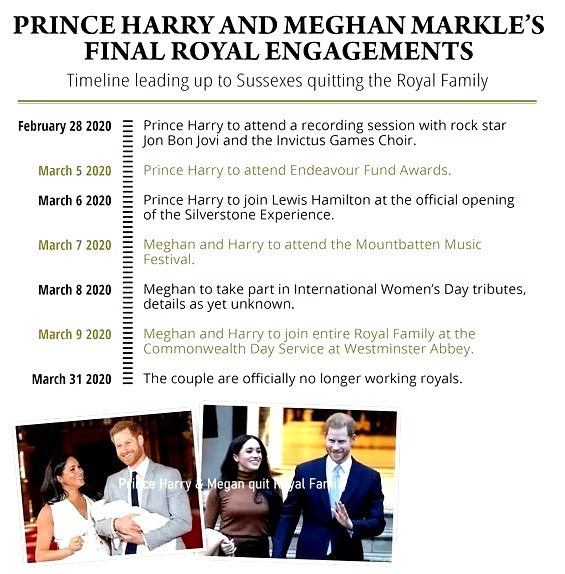 SUCCESSION TO THE BRITISH THRONE
Succession to the British throne is determined by descent, sex (for people born before October 2011), legitimacy, and religion. Under common law, the Crown is inherited by a sovereign's children or by a childless sovereign's nearest collateral line. The Bill of Rights 1689 and the Act of Settlement 1701 restrict succession to the throne to the legitimate Protestant descendants of Sophia of Hanover that are in "communion with the Church of England". Spouses of Roman Catholics were disqualified from 1689 until the law was amended in 2015. Protestant descendants of those excluded for being Roman Catholics are eligible.

Queen Elizabeth II is the sovereign, and her heir apparent is her eldest son, Charles, Prince of Wales. Next in line after him is Prince William, Duke of Cambridge, the Prince of Wales's elder son. Third in line is Prince George, the eldest child of the Duke of Cambridge, followed by his sister, Princess Charlotte and younger brother, Prince Louis. Sixth in line is Prince Harry, Duke of Sussex, the younger son of the Prince of Wales. Under the Perth Agreement, which came into effect in 2015, only the first six in line of succession require the sovereign's consent before they marry; without such consent, they and their children would be disqualified from succession.

The first four individuals in the line of succession who are over 21, and the sovereign's consort, may be appointed Counsellors of State. Counsellors of State perform some of the sovereign's duties in the United Kingdom while he or she is out of the country or temporarily incapacitated. Otherwise, individuals in the line of succession need not have specific legal or official roles.
The United Kingdom is one of the 16 Commonwealth realms. Each of those countries has the same person as monarch and the same order of succession. In 2011, the prime ministers of the realms agreed unanimously to adopt a common approach to amending the rules on the succession to their respective Crowns so that absolute primogeniture would apply for persons born after the date of the agreement, instead of male-preference primogeniture, and the ban on marriages to Roman Catholics would be lifted, but the monarch would still need to be in communion with the Church of England. After the necessary legislation had been enacted in accordance with each realm's constitution, the changes took effect on 26 March 2015.
A TO Z OF ROYAL WEDDINGS
A is for ANNOUNCEMENT. A proclamation will be displayed on an easel at the gates of Buckingham Palace, while news of the birth will be tweeted by Kensington Palace and emailed to the press. Gun salutes will also mark the new arrival.

B is for BROTHER. The new royal baby will be 21 months younger than older brother Prince George, who is directly in line to become king one day.

C is for CHRISTENING. The baby will be baptised wearing a replica of a lace and satin gown that has been used since 1841. Tradition dictates the Archbishop of Canterbury Justin Welby, England's highest cleric, will conduct the christening.

D is for DUTY. Once an adult, a lifetime of royal duty on behalf of the sovereign awaits.

E is for EDUCATION. The royal youngster is set to enjoy exclusive schooling. Both William and his brother Prince Harry went to the elite boarding school Eton.

F is for FASHION. The new royal will be a trendsetter before it can walk and talk anything George has been seen wearing has flown off the shelves.

G is for GRANDPARENTS. William's father Prince Charles, the heir to the throne, and his wife Camilla are expected to visit the baby in hospital shortly after the birth, along with Kate's parents Michael and Carole Middleton.

H is for HOME. The new baby will grow up at the Cambridges' apartment in London's Kensington Palace and Anmer Hall, a country house on Queen Elizabeth II's private Sandringham estate in eastern England.

I is for INTEREST. The birth will spark huge interest around the world, with international media camped outside the hospital doors waiting for the first glimpse of the new royal.

J is for JORDAN. The baby will be baptised with water from the River Jordan.

K is for KATE. The 33-year-old duchess suffered acute morning sickness again during her second pregnancy, causing her to miss royal engagements.

L is for LINE OF SUCCESSION. The baby will be born fourth in line to inherit the throne, behind George and directly in front of uncle Harry.

M for MEMORABILIA. The Centre for Retail Research reckons the royal baby will bring retail sales of around £60 million to £70 million ($88-103 million, 84-98 million euros), rather than the £247 million boost attributed to George.

N is for NAMES. Royal babies often get several Christian names, with George getting three. Bookmakers' favourites for a girl are Alice, Elizabeth, Charlotte, Alexandra and Victoria; for a boy, James, Arthur, Henry, Philip and Albert.

O is for OBSTETRICIANS. The medical team will be led by Guy Thorpe-Beeston, the surgeon-gynaecologist to the royal household, who will be assisted by his predecessor Alan Farthing.

P for PRIMOGENITURE. Laws which took effect in March ending male primogeniture mean girls born after October 28, 2011 can no longer be overtaken by younger brothers in the line of succession.

Q is for QUEEN ELIZABETH II. The baby will be the monarch's fifth great-grand-child and her 17th descendant.

R is for ROYAL MINT. They will produce a £5 coin in celebration and gift a special "lucky" silver penny to 2,015 babies born on the same day.

S is for ST MARY'S HOSPITAL. The baby will be born in the private Lindo Wing of the hospital in Paddington, central London. A two-room suite costs £6,750 a night, though consultants' fees can double that.

T is for TITLE. The baby will be known as His/Her Royal Highness Prince/Princess (name) of Cambridge.

U is for UNCLE HARRY. William's fun-loving brother is coming out of the army and so may have more time to babysit. The baby will also have Auntie Pippa and Uncle James on its mother's side.

V is for VICTORIA. The baby will be the great-great-great-great-great-grandchild of 19th-century queen Victoria.

W is for WILLIAM. The 32-year-old duke is training to become an air ambulance pilot. He will take two weeks' paternity leave. He could face a two-hour drive to London when Kate goes into labour.

X is for XX or XY? As with George, the couple do not know the sex of the baby.

Y is for YELLOW. Bookmakers are taking bets on the colour of Kate's dress when she leaves hospital, with a spring-like yellow among the favourites for the first baby pictures that will zip round the world.

Z is for ZZZ William and Kate can expect months of sleepless nights, but their nanny will be on hand to ease the burden.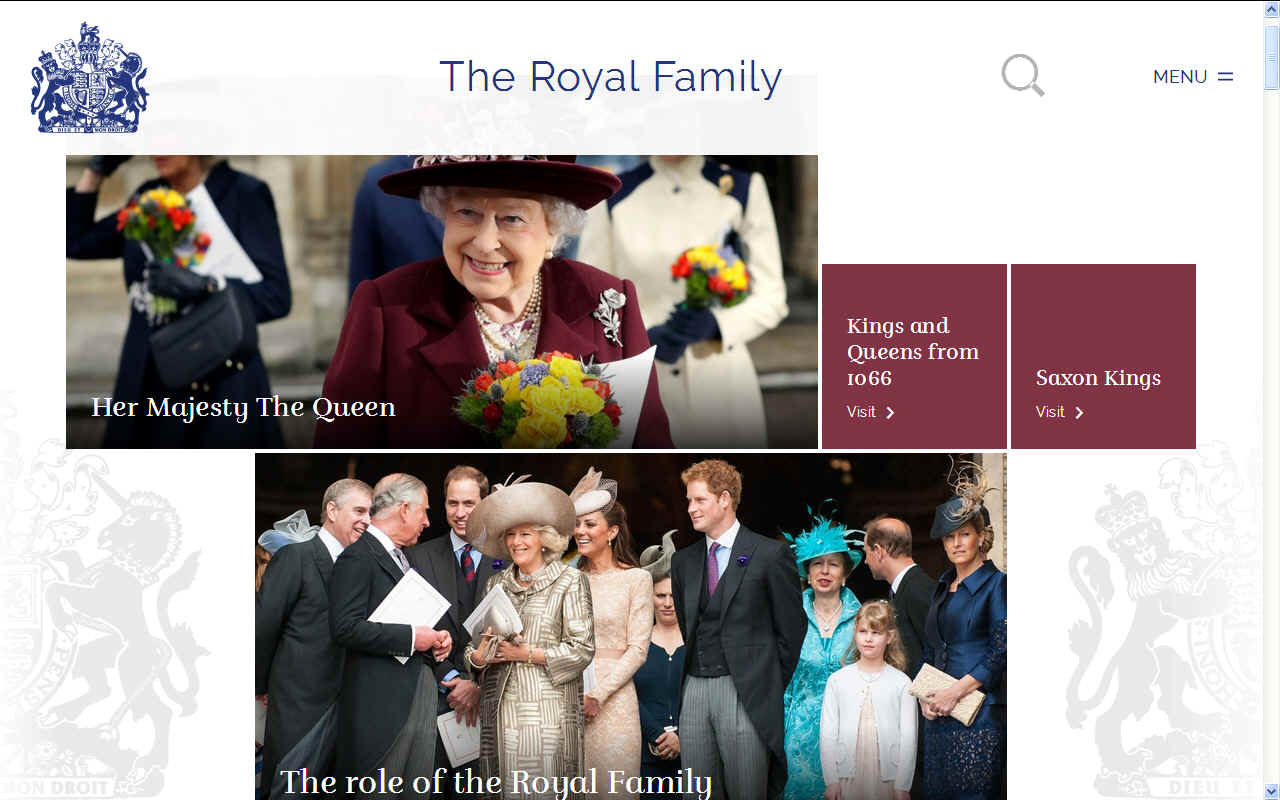 A TO Z OF ROYAL NAMES
A: ALEXANDER, Defender of the people. The feminine version, Alexandra, is the Queen's middle name. In 2013 William and Kate gave their son George this middle name in tribute to her.

B: BRICE, From the town of Bruis. This is the family name of famed Scottish king Robert, who led the country to independence from England in 1320.

C: CHARLES, Freeman. Strong Prince Charles shares a moniker with Charles II (1630-1685), who came to power when the monarchy was restored in 1660. Also Prince Harry's second name.

D: DAVID, Beloved. In something of a royal tradition, King Edward VIII (later Duke of Windsor) was known informally as David, the last of his seven names. Prince Harry's fourth name.

E: EDWARD, Noble strength. King Edward I's (1239 – 1307) campaign to bring Scotland under English control is the subject of the film Braveheart.

F: FREDERICK, Peaceful ruler. Always a favourite with royals, the name had a surge in popula­rity in the 18th century when the German House of Hanover claimed the throne.

G: GEORGE, Farmer. Prince George shares his name with the Queen's beloved father, George VI, who saw Great Britain through the Second World War.

MORE: The meaning behind Prince Louis Arthur Charles

H: HENRY, Ruler of the estate. He's known to the world as Prince Harry, but the rugged young royal's first name is actually Henry – one of the most-storied royal names.

I: INDULF, Wolf. This unusual moniker is the English version of the medieval Gaelic name "Ildulb." Indulf mac Causantin (d. 962) was king of the Scots

J: JAMES, Supplanting. The 21st-most-popular boy's name in the UK last year, James is also the name of many British kings.

K: KENNETH, Fire. King Kenneth MacAlpin is considered by some to be the founding father of Scotland in the ninth century.

L: LOUIS, Famed warrior. Prince William and Prince George both have this as a middle name. It was likely chosen to honour Prince Philip's uncle, Lord Louis Mountbatten.

M: MICHAEL, Who is like God. The name of the Queen's cousin Prince Michael of Kent.

N: NICHOLAS, Victory of the people. The Duke of Kent's son Lord Nicholas Windsor, now in his 40s, shares a name with the saint who is believed to protect sailors.

O: OCTAVIUS, Eighth. Royal families would give this name to the eighth child (or eighth boy), as with Prince Octavius (1779-1783), eighth son of King George III.

P: PHILIP, Fond of horses Prince Charles paid tribute to his father, Prince Philip, when naming his first-born. Philip is one of Prince William's middle names.

Q: QUINCY, Estate of the fifth son. Derived from the Latin word "quintus," this was the name of rebel leader Saer de Quincy, 1st Earl of Winchester (1155-1219).

R: RICHARD, Brave power. King Richard III (1452-1485) may have gotten a bad rap from Shakespeare, but this name has never gone out of style.

S: STEPHEN, Crown. A fitting choice for a royal, Stephen wasn't always a proper name; it was used as a noun in Homer's ancient Greek epic The Illiad.

T: THOMAS, Twin. Thomas Becket (1120-1170), the Archbishop of Canterbury, had disputes with King Henry II and was killed by his men.

U: UNREADY, Bad counsel. Ethelred the Unready (968-1016) was just seven years old when he took the throne, hence he became known as the "unready" ruler.

V: VICTOR, Champion. Despite its martial meaning, this name is more famous for its association with saints and religious figures than warriors.

W: WILLIAM, Determined protector. After his brother Prince William, who will one day become King.

Prince William, whose full name is William Arthur Philip Louis, and his son Prince George, whose full name is George Alexander Louis

X: XAVIER, New house. St. Francis Xavier (1506-1552) was one of the first Jesuit missionaries and devoted his life to taking Roman Catholicism to Asia

Y: YOUNG. King Henry II's successor was known as Henry the Young King to differentiate between father and son. He lived from 1155-1183.

Z: ZEID, To grow. Perfect for a born leader, the name represents a person who encourages progression in himself and others.
ALICE, Of a noble kind. Prince Philip's mother, Princess Alice (1885-1969), lives up to the meaning of her moniker: she was Queen Victoria's great-granddaughter.

BEATRICE, Bringer of joy. This traditional name has had resurgence in popularity thanks to Harry's cousin Princess Beatrice, who shares her name with Queen Victoria's youngest daughter.

CHARLOTTE, Free, strong. A feminine spin on Charles, this has been the name of numerous nobles, including glamorous Princess Charlotte (1796-1817) and the youngest Windsor, Princess Charlotte of Cambridge

DIANA, Goddess of the moon, divine. The mother of princes William and Harry, later called the "People's Princess," wasn't the first Lady Diana Spencer. The artist daughter of the Duke of Marlborough (1734-1808) shared the name.

FIONA, White, fair. Like Shrek's modern princess bride, the name Fiona is an updated version of the original Scottish and Irish eponyms Finola and Finnuala.

GABRIELLA, God is my strength. Prince and Princess Michael of Kent gave this name to their daughter. Lady Gabriella, now a journalist, is 40th in line to the throne and is called Ella.

HELENA, Light. Commonly used as a tribute to Roman empress St. Helena, its variants are Helen and Ellen. It was the name of Queen Victoria's third daughter.

ISABELLA, God's promise. The Spanish form of Elizabeth, this name has been given to more than 20 international queens and other royal women.

JANE, Gracious. Lady Jane Grey (1536-1554) is called the nine-day queen – the length of her reign before being supplanted by Queen Mary.

KATE, Pure. There are no "Kates" in royal history, but five Catherines have been queen, including Catherine of Aragon, whose marriage with Henry VIII sparked the Protestant Reformation.

LOYCE, Renowned warrior. There are no "Loyces" in royal history but it's Meghan's mum Doria's second name. According to sheknows.com People with this name have a deep inner desire to inspire others in a higher cause, and to share their own strongly held views on spiritual matters.

MARY, Strong waters. Her Majesty's grandmother Mary of Teck was engaged to Prince Albert. After he died of the flu, she wed his younger brother, the future George V.

NOOR, Light. The Jordan beauty Queen Noor comes to mind when we think of this name; however, Noor, which is of Arabic origin, is actually a unisex title.

OLGA, Holy. Derived from the Scandinavian "Helga," Olga is a popular name in Russian aristocracy.

PHILIPPA, Lover of horses. The feminine form of Philip, this Greek name – derived from Alexander the Great's father.

QUINN, Wise, queen. Perfect for a born ruler, Quinn, which means fifth-born, would also be ideal for a family's fifth infant.

ROSE, Rose. Princess Margaret's lovely middle name was at the insistence of George V. His wife had wanted to call her "Ann Margaret".

SAVANNAH, Treeless plain. The Queen's eldest grandchild, Peter Phillips, and his Canadian wife, Autumn, gave their first daughter this name, which has native American origins.

THYRA, Thor's struggle. Two Danish princesses had this name, pronounced "Tara." The elder Thyra's sister, Alexandra, married Queen Victoria's eldest son, Edward VII.

URSULA, Little female bear. St. Ursula, a Roman-British Christian saint, was, legend has it, the daughter of a king, who was martyred after she refused to marry.

VICTORIA, Victory. Many princesses in the past several generations have been named in honour the stalwart queen.

WANDA, Slender, young tree. The story of Polish Queen Wanda – who drowned herself to avoid marrying an enemy – is a legend in Poland.

XENIA, Hospitality. Grand Duchess Xenia Alexandrovna of Russia was a muse to Danish composer Valdemar Vater. He wrote the "Xenia Polka Mazurka" for her.

YASMIN, Jasmine flower. Hollywood royalty meets the real thing in Princess Yasmin Aga Khan, the daughter of Rita Hayworth and Prince Aly Khan.

ZARA, Bright as the dawn. It's thanks to her uncle, Prince Charles, that the Queen's granddaughter got her name. "She made a sudden and positive arrival and my brother thought it was an appropriate name," says Princess Anne.
LINKS & REFERENCE
https://www.